Steel Home Kit -CSC3648 – 3 BedR, 2 Bath, Inc. Roofing & Siding – 1728 sf living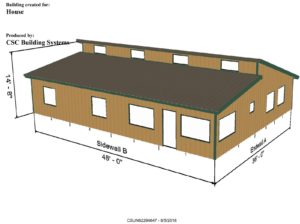 Complete Frame, Roofing & Siding
Framed openings may be added or moved
Engineer stamped plans are included
Engineer stamped foundation plans are included
Includes Anchor Bolts for attaching the building to the foundation
There are no interior partitions included, this home is designed using "Rigid Frame"  technology, so there are no interior bearing walls. Walls may be placed anywhere and may be framed with wood 2x4s, steel studs, or other framing of your choice.
Building Specifications CSC 3648 Home Kit
Building Site Details:
Ground Snow Load: 40 psf
Wind Load/Exposure: 110 mph C
Soil Bearing Capacity: 1500 psf Building Code: 2015 IBC
Building Occupancy Category: II
Building Dimensions:
Width: 20′ – 0″
Length: 48′ – 0″
Eave Height: 8′ – 0″
Roof Pitch: Single Slope 4:12
# Sidewall Bays: 4
# Endwall Bays: 2
Leanto A Details:
Span: N/A
Bays: N/A Drop: N/A
Roof Pitch: N/A
Eave Height: N/A
Leanto B Details:
Span: 16′ – 0″
Bays: 4 Drop: 3′ – 0″
Roof Pitch: 2:12
Eave Height: 9′ – 0″
Opening Details:
Framed Openings      
(12) Twelve – Window
(2) One – Personnel Door
$27,735.99
View more photos of this building on our Current Projects page.