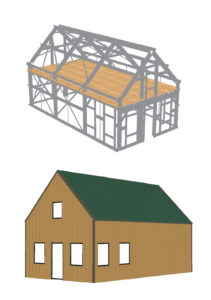 CSC Weekender Series
CSC Building Systems introduces the Weekender Series. Developed as a place to escape "city" life, where one can get back to nature and the simple ways of life.
The Weekender Series is an engineered steel framing system specifically designed for the recreational market. The economical lightweight steel is easily transported and can be put up quickly by two or three workers without any special lifting equipment. This makes it the perfect framing system for the advanced Do-It-Yourselfer.
When the stress of today's hectic lifestyle gets to be too much, wouldn't it be nice to escape to your weekend retreat and cultivate your true perspective on life.
Not seeing exactly what you need? Contact us for modifications, or design your own with our 3D Designer. 

*All measurements are approximate. Renderings are artist conceptions and may vary from actual plans.

If you would like your building to look like the artist's drawings in the brochure, you will need to order a Frame Only kit for wood cover and purchase wood locally. Our complete kits include metal roofing and siding.